CHATTER BLIP is a duo project of Chuck Bettis (electronics/throat) and Dafna Naphtali (electronics/processing/voice) — an interstellar multi-character audio operetta involving a multitude of human, alien, and machine voices, in a mash-up of primal and classic sci-fi and electro-acoustics….. with performances since 2006.
RELEASED March 2020– Microcosmopolitan — on
Contour Editions, iTunes and Bandcamp features seven brand new tracks, and two reaction poems inspired by the tracks from Shelley Hirsch. Bettis and Naphtali also created a series of audio reactive / generative music videos for the tracks on Microcosmopolitan, featuring footage from their lockdown time in NYC collaborating together remotely. Created for presentation on Harvestworks Twitch TV 9/22/20
Audio/Video of other past performances:
–WhiteNoise IV – July 9, 2021 (First show since the pandemic!)
(part of Brooklyn Sounds: An Out of the Box Project from WhiteBox_)
Curated by Juan Puntes with Katherine Liberovskaya
https://www.facebook.com/whiteboxny/videos/2967166186885278/?t=1614
–Ridgewood Radio broadcast/archive –Live set recorded 12/16/2016 from the Lock It Down series at the Sump/Poppers Locarno
-Clocktower radio hosting our show at Phil Niblock's Experimental Intermedia, December 2010
–Various other shows on FMA (Free Music Archive): https://freemusicarchive.org/music/Dafna_Napthali__Chuck_Bettis/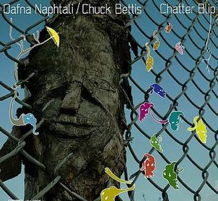 Chatter Blip's debut CD was "Chatter Blip" ((Acheulian Handaxe 2013)
Bios:
Chuck Bettis, (electronics + throat) was raised in the fertile HarDCore soil, nourished within Baltimore's enigmatic avant garde gatherings, and blossoming in NY's Downtown Musical tribe. His unique blend of electronics and throat has led him into various collaborations with great musicians from around the globe. He has performed live with John Zorn, Fred Frith, Jamie Saft, and Afrirampo to name a few. Some of the musicians Bettis has recorded and played live with are as follows; Ikue Mori, Nautical Almanac, Audrey Chen, Yellow Swans, Toshio Kajiwara, Mick Barr, etc, plus a long history of punk bands he was in (most notably the experimental punk band Meta-matics as well as the enigmatic All Scars). Currently he is working on many of his experimental projects such as Snake Union with Dave Grant, Die Trommel Fatale with Brandon Seabrook/Marika Hughes/Eivind Opsvik/Henry Fraser/Dave Truet/Sam Ospovat, Mossenek with Mick Barr & Colin Marston, Chatter Blip with Dafna Naphtali, and Pretty Clicks with Berangere Maximin, in addition to improvising, recording, or composing with an array of musicians from around the world. http://chuckbettis.com/
Dafna Naphtali (voice – electronics – live-sound-processing) composes and performs experimental, interactive electro-acoustic music using her custom Max/MSP programming for live sound processing of voice and other instruments, and works for multi-channel audio and musical robots. She draws on her musical background in jazz, classical, rock and near-eastern music, and interprets Cage, Stockhausen and contemporary composers, in projects with well-regarded musicians around the world, and grants/fellowships/residencies. CD "What is it Like to be a Bat?" digital punk trio w/Kitty Brazelton (Tzadik), and several CDs forthcoming in 2017.