More information: https://www.facebook.com/events/974065419322445/
from previous performance at Jack Theater in 2014:
http://downtownmusic.net/dafna-naphtali-chuck-bettis-levy-lorenzo-hans-tammen-05-18-2014#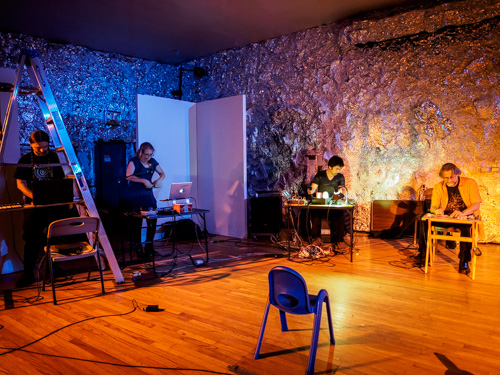 quartet at Jack Theater

Related show

CHATTER BLIP is a duo project of Chuck Bettis (electronics/throat) and Dafna Naphtali (electronics/processing/voice) — an interstellar multi-character audio operetta involving a multitude of human, alien, and machine voices, in a mash-up of primal and classic sci-fi and electro-acoustics….. with performances since 2006.
RELEASED March 2020– Microcosmopolitan — on
Contour Editions, iTunes and Bandcamp features seven brand new tracks, and two reaction poems inspired by the tracks from Shelley Hirsch. Bettis and Naphtali also created a series of audio reactive / generative music videos for the tracks on Microcosmopolitan, featuring footage from their lockdown time in NYC collaborating together remotely. Created for presentation on Harvestworks Twitch TV 9/22/20
Audio/Video of other past performances:
–WhiteNoise IV – July 9, 2021 (First show since the pandemic!)
(part of Brooklyn Sounds: An Out of the Box Project from WhiteBox_)
Curated by Juan Puntes with Katherine Liberovskaya
https://www.facebook.com/whiteboxny/videos/2967166186885278/?t=1614
–Ridgewood Radio broadcast/archive –Live set recorded 12/16/2016 from the Lock It Down series at the Sump/Poppers Locarno
-Clocktower radio hosting our show at Phil Niblock's Experimental Intermedia, December 2010
–Various other shows on FMA (Free Music Archive): https://freemusicarchive.org/music/Dafna_Napthali__Chuck_Bettis/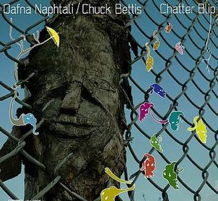 Chatter Blip's debut CD was "Chatter Blip" ((Acheulian Handaxe 2013)
Bios:
Chuck Bettis, (electronics + throat) was raised in the fertile HarDCore soil, nourished within Baltimore's enigmatic avant garde gatherings, and blossoming in NY's Downtown Musical tribe. His unique blend of electronics and throat has led him into various collaborations with great musicians from around the globe. He has performed live with John Zorn, Fred Frith, Jamie Saft, and Afrirampo to name a few. Some of the musicians Bettis has recorded and played live with are as follows; Ikue Mori, Nautical Almanac, Audrey Chen, Yellow Swans, Toshio Kajiwara, Mick Barr, etc, plus a long history of punk bands he was in (most notably the experimental punk band Meta-matics as well as the enigmatic All Scars). Currently he is working on many of his experimental projects such as Snake Union with Dave Grant, Die Trommel Fatale with Brandon Seabrook/Marika Hughes/Eivind Opsvik/Henry Fraser/Dave Truet/Sam Ospovat, Mossenek with Mick Barr & Colin Marston, Chatter Blip with Dafna Naphtali, and Pretty Clicks with Berangere Maximin, in addition to improvising, recording, or composing with an array of musicians from around the world. http://chuckbettis.com/
Dafna Naphtali (voice – electronics – live-sound-processing) composes and performs experimental, interactive electro-acoustic music using her custom Max/MSP programming for live sound processing of voice and other instruments, and works for multi-channel audio and musical robots. She draws on her musical background in jazz, classical, rock and near-eastern music, and interprets Cage, Stockhausen and contemporary composers, in projects with well-regarded musicians around the world, and grants/fellowships/residencies. CD "What is it Like to be a Bat?" digital punk trio w/Kitty Brazelton (Tzadik), and several CDs forthcoming in 2017.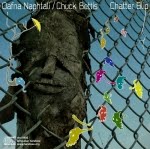 Dafna Naphtali – sound processing, electronics & voice
Chuck Bettis – electronics & voice
Buy CD here, or buy at iTunes
---
Recorded March 2009
1 – council 64 (7:17)
2 – gab jiba (6:33)
3 – hybrid chatter (1:54)
4 – renegade (9:45)
5 – fade flatlands (12:26)
6 – breach (8:05)
7 – blip wiki (6:20)
Total Time: 63:20
CHATTER BLIP is a duo performance piece by Chuck Bettis (electronics/voice and Dafna Naphtail (electronics/processing/voice) — an interstellar multi-character audio operetta involving a multitude of human, alien, and machine voices, in a mash-up of primal and classic sci-fi and electro-acoustics.
Dafna Naphtali + Chuck Bettis: Chatter Blip by hansteg

Track 1:
council_64
a petition from a lowly human causes much debate among the Devices (the hybrid electronic beings from planet_64).   The living oracle predicts that all humans must return to earth in order to survive and will soon start an uprising.   The greek chorus are hybrid children — interrupting the proceedings, invading, and playing some ancient earth music they have discovered.
Track 2:
gab jiba
the Supreme Device agitatedly debates with itself about whether or not it can allow the human petitioner to return to her planet.  It fondly recalls the quaint human traditions, and their influence on the culture of planet_64, and especially a favorite– the ritual office dance.    to calm himself he gives orders for some of the humans to be brought in to amuse him.   Meanwhile, unseen, the petitioner surreptitiously slips into an idle transporter.  She starts desperately hitting random buttons, and is suddenly successful and serendipitously and instantly transported elsewhere in the galaxy.
Track 3:
hybrid chatter
the petitioner, now far from planet_64 discovers that her transporter is also itself a hybrid being (although it is not as intelligent as a Device).   To save herself, she befriends it, impersonating a Device. remaining quiet about her identity, she is able to keep the transporter unaware that she is actually a runaway human.
Track 4:
renegade
back on planet_64, at a renegade human settlement, humans toil side by side and live in harmony with lower caste machines and decommissioned (former) Devices.     The tribal leader calls the humans together and declares that the time has come for the great uprising and for humans return to their home planet as had long been foretold.   Energized, the humans immediately set to the task of completing the work of many generations, secretly building a transporter of materials that humans have grown and mined themselves (and using designs stolen from the Devices).
Track 5:
flatlands
the humans  finally lift off in their homemade transporter, to scour the galaxy and find the petitioner in her stolen craft.    But their navigation system is very primitive.   They can only navigate by using their feelings and intuition to communicate with the instruments and locate the petitioner.    As they built the ship themselves, their transporter is not a hybrid, nor a device.  It is powered with the help of mysterious flat beings who also were long ago enslaved by the hybrids and so are in alliance with and loyal to all humans.
Track 6
breach
on planet_64 the council discovers the breach. They angrily realize that the petitioner has made off with a vehicle, and worse, that a renegade group of humans has followed her in rebellion.
Track 7
blip wiki
the renegades' transporter has located the petitioner and her ship. The two transporters begin to communicate and discover an affinity for each other —  they begin to move closer and attracted to each other both physically and emotionally.   The petitioner, lonely and hopeful, knows that very soon she will be with her people again and finally on her way back to earth.   She sings an ancient song she remembers from a previous life.  She does not know what awaits her.
cd reviews..
François Couture / Monsieur Délire
There are lyrics buried in the effects (and included in the booklet), sci-fi metaphores that give the music a futuristic aura it wears well. These are not songs but edgy improvisations with in a rough though stimulating style.
Massimo Ricci / TemporaryFault
Certain solutions are quite humorous – occasionally awesome – in their warped glory, completely unrecognizable voices utilized as instruments for the generation of baffling soundscapes abounding in rhythmic diversifications, clustery indeterminations and instant outgrowths dressed with timbres from the depth of a black hole.
Andrea Ferrari / Chain DLK
..strange analog-electronic, bleeps, angel vocals, lyrical intersections, outer space yodels .. creates this strange "life after death" experience.