multi-channel kinetic sound sculpture at Governors Island
at Governors Island May-August 2021
Audio Chandelier: Polyélaios is a new multi-channel sound installation by Dafna Naphtali, featuring a kinetic audio speaker sculpture created in a first-time collaboration with metalsmith/designer Ayala Naphtali.
Audio Chandelier: Polyélaios was exhibited on Governors Island in Nolan Park Building 10a, presented by Harvestworks Digital Media Arts, as part of "The Workings of Media", for in-person viewing, Saturdays/Sundays May- August, 2021, with over 2400 visitors!
LinkTree: https://linktr.ee/audiochandelier for information about Dafna and Ayala Naphtali. or find us on Instagram.
for information about other Audio Chandelier projects by Dafna Naphtali since 2010
– https://dafna.info/multi-channel-sound/
Individual "grains" of sound are dispersed via the speaker sculptures in an immersive sonic experience– undulating audio "pixels" illuminate and refract moments in time, eliciting reminiscent soundscapes of environmental / electronic fields of crickets, unruly flowing brooks, rain-rhythms, bird song and unruly percussion.
A multitude of isolated sounds form a new sonic whole, ranging from turbulence to stillness and Xenakis inspired hyper-electronics refraction of sound.
Other Audio Chandelier: Polyélaios events/showings:
Live performance with Dafna Naphtali in the installation was Friday July 23rd 6:30pm
Details: https://fb.me/e/4LJlEgJ58
Telluric Vibrations: Harvestworks (Sept 9) live Zoom interview with Ayala Naphtali (and presentation):
https://www.youtube.com/watch?v=cBtaZMWkC9M&t=5630s
at Adorn Axis jewelry popup show during NYC Jewelry week Nov 16-20, 2021.
about Audio Chandelier works past/present:
Dafna Naphtali's Audio Chandelier multi-channel sound projects since 2010, have included both live performances and fixed media installations. This new interactive installation, begun during a 2019 artist residency at Harvestworks Digital Media Arts, is also a first-time collaboration with the metalsmith/designer Ayala Naphtali to create the sculpture.
working on Audio Chandelier at Ayala's studio and Governors Island.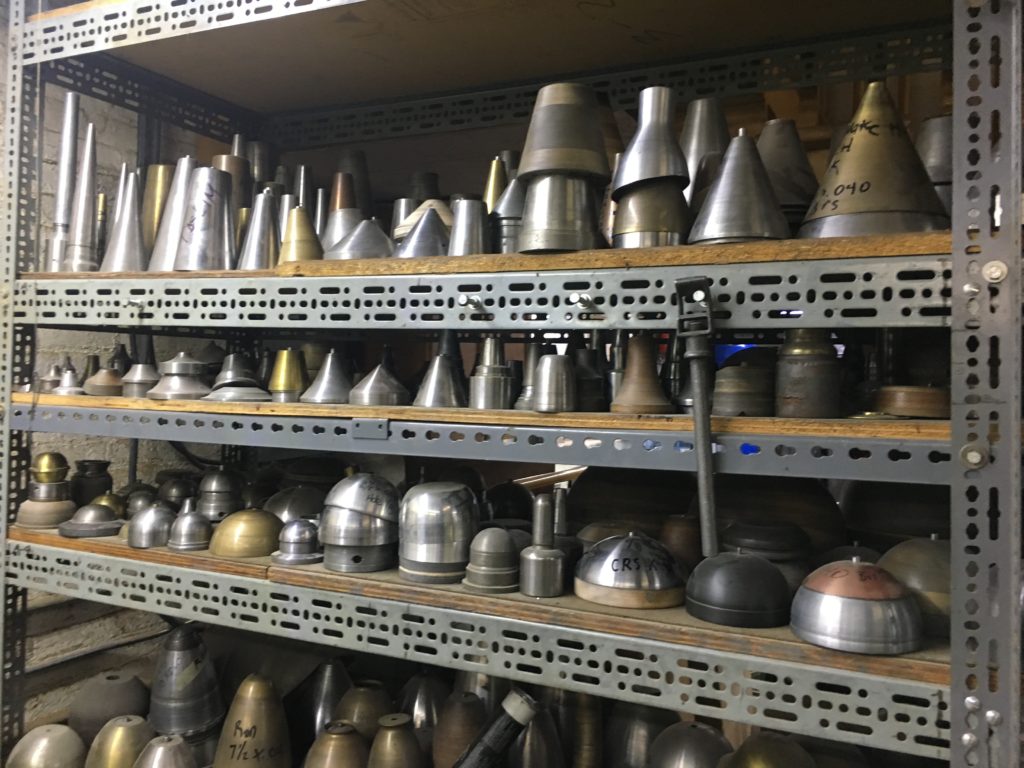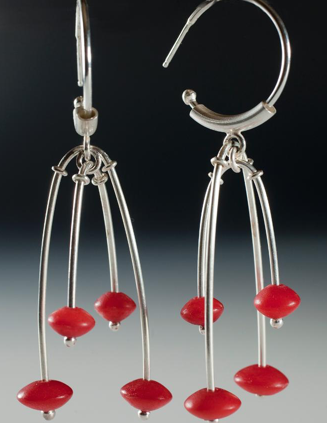 Ayala Naphtali will contribute expertise from her design practice over the past 35+ years works in ways with color and subtle kinetic and mechanical movement that fits the scale and delicacy of the visual needed for my Audio Chandelier. The design vision for the speaker layout and kinetic sculpture are inspired by Ayala's silversmith and metal work designs.(ayalajewelry.com)
Dafna and Ayala Naphtali, in Audio Chandelier: polyélaios , bring together all their influences and background as native New Yorkers and sisters: Dafna, informed by her practice as an electronic musician with a life-long habit of listening to birds rural and urban soundscapes, going back to their family's extreme backpacking trips, Ayala in her long interest in natural materials and physicality of her objects, starting as a teen taking jewelry classes at the Metropolitan Museum. Their shared history, as native New York sisters also comes in: weekly childhood visits and classes at MoMA (early memories of Calder, Cubism, modern jazz dance classes and early exposure to computer music by their modern dancer mother and engineer/computer programmer, father.
For more background on earlier Audio Chandelier work by Dafna Naphtali, see AudioChandelier.com
DAFNA NAPHTALI is a sound-artist, vocalist, electronic musician and guitarist. A performer and composer of experimental, contemporary classical and improvised music since the mid-90's, she creates custom Max/MSP programming fr sound-processing of voice and other instruments, music for robots, "Audio Chandelier" multi-channel sound projects and "Walkie Talkie Dreams" audio augmented reality soundwalks in NY and Germany. Her new album "Fusebox" with Ras Moshe Burnett is out on Gold Bolus label May 21, 2021. "luminary" (Time Out) "extraordinary experimental vocalist" (Bruce Gallanter, Downtown Music Gallery. "Brilliant and dangerous" All Music Guide. dafna.info
AYALA NAPHTALI strives for balance and proportion, and feels as if each piece must find its axis on the wearer. The work is designed to be elegant, with minimal and bold forms Ayala's work is an exploration of form and materials, each equally important. She feels firmly rooted in the historical tradition of her craft. Ayala is committed to the use of materials, for their color texture and versatility. Often the material is the inspiration for the piece of jewelry being designed. Coconut shell, dyed and carved, is used to achieve rich color and texture. Forging, fabricating and casting are used to create pieces with dimension and volume."
Ayala began making jewelry in her early teens. She studied Gold and Silversmithing at FIT and SUNY NEW PALTZ where she received her BFA in 1985. Ayala's work has been exhibited both nationally and internationally in galleries and museums. She has won awards at Exhibitions nationally.
Her work has been collected privately, and by major museums including the Cooper Hewitt and Kunsindustriumuseum in Norway, and The White House permanent collection. Ayala currently exhibits in major nationally juries craft shows such as American Craft Exposition in Baltimore, SOFA show in Chicago and other local venues. Selected publications include American Craft Magazine, ELLE, The Fashions of The Times, The New York Times, Mademoiselle, Women's Wear Daily, Glamour, and New Women Magazine. Ayala has been a juror for The American Craft Council Craft Shows.