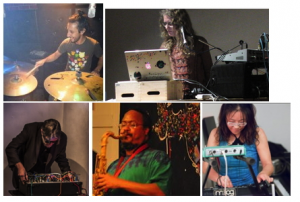 Kick off the almost-Fall season with some fun, improvisation and fulfillment of audio fixations–
Dafna Naphtali (live electronics/ sound processing /voice) plus visiting creative mind and drummer Ofer Bymel (of Electro Free Trio / Tel Aviv).
With fellow audio fixators from New York,..
Shoko Nagai (piano, electronics),
Ras Moshe (reeds),
Hans Tammen (electronics) and guests..
beeps squeaks, noise-beauty, processed pulse and sparks will ensue..
Bios:
Ofer Bymel /////// A leading Israeli drummer and improviser, Bymel has played with an extensive amount of musicians from Israel and abroad. Using his immense musicality combined with a vast palette of sounds and techniques, he is capable of playing an impressive range of effects: from the extremely soft and delicately inaudible to the harsh and explosive. Bymel has also led, and took part in many Improvised Music and Free-Jazz groups in Israel, as well as recently in Germany.
Dafna Naphtali – www.dafna.info
Hans Tammen – www.tammen.org
Shoko Nagai — www.shokonagai.net
Ras Moshe – http://straw2goldpictures.com/rasmoshe.htm
Related show