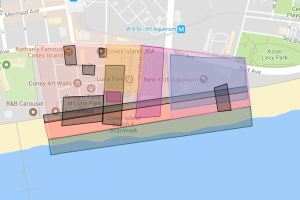 Coney Island Dream Garden is a proposed interactive soundwalk being proposed to be developed by sound artist and composer Dafna Naphtali, and experienced via a free mobile-device app using U-Gruve AR Audio Augmented-Reality platform by Richard Rodkin. Geo-tagged audio files, originally recorded on-site to create short electroacoustic compositions, are played / altered by the physical (GPS) location of the participants listening over headphones. To be available on-site only in Coney Island, Brooklyn (NY, USA), the work will focus and comment the on uniques sounds of Industrial and post-industrial-artist-occupied-gentrifying areas. Previous soundwalk projects by Naphtali include Walkie Talkie Dream Angles for Washington Square Park (2016 and ongoing), and Walkie Talkie Dream Garden, a joint-project for waterfront areas in Hamburg Germany, and the Williamsburg, Brooklyn in New York (2018 and ongoing). Projects received funding from NYSCA, Brooklyn Arts Council, and the Hamburg Cultural Council.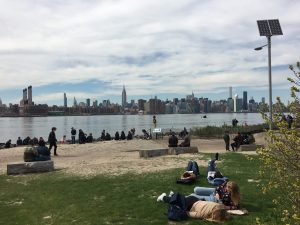 Coney Island Dream Garden is a new soundwalk in the series, envisioned as encompassing not only today's beach, boardwalk and theme-park areas, and interacting with the cacophony of sounds ever present, but also reaching back to the rich sound history of Coney Island in its heyday: of Luna Park, Dreamland, Steeplechase Park, mining oral histories, and personal family stories of the composer (including Naphtali's paternal grandfather's infant sisters from Turkey/Greece were on displayed circa 1913 with other premature babies in a side-show exhibit. The composer hopes/plans to use this opportunity to interact with and solicit contributions from the Coney Island History project, organizers of the Mermaid Parade, sideshow performers and others.
Coney Island Dream Garden walk will encompasses the beach, waterfront, and turn large structures (Wonder Wheel, that become oversized virtual instruments so participants can shape their own musical experience as they walk, run, or ride, and the area at the site of Cyclone, where the infants Hannah and Hanna Naphtali were exhibited and one died at just a few weeks old.
Preliminary work and site-scouting for Coney Island Dream Garden will begin with Naphtali's sound collection and investigation in June through summer of 2020. These audio recordings, will be processed, contrasted, intermingled with historical accounts, interviews, electroacoustic sound art pieces and vocal work, to create the sounds for the free app (iOS and Android) to be launched in Spring 2021, presented as an interactive soundwalk and participatory public performance as part of Make Music New York 2021.
Coney Island Dream Garden builds on prior work and ideas developed while creating Walkie Talkie Dream Garden (Part I launched 2018) and also Naphtali's first soundwalk for U-GRUVE AR, Walkie Talkie Dream Angles for Washington Square Park in New York City, in September 2016. Walkie Talkie Dream Angles was created for the NoiseGate acoustic ecology festival (2016), allowing participants to traverse sonically interesting corners of the park, and underscoring the loss of quiet, past and future sounds, bringing a favorite urban environment to life in a sonically unique and individual way, as I layered processed environmental sounds, I recorded on-site, with tracks of my voice, percussion, and thoughtful strategizing about site-specific listening, interactivity and attention span. Walkie Talkie Dreams soundwalks, and U-GRUVE have been featured in NoiseGate (2016) Creative Tech Week NYC, 2017, Creative Tech Week 2019, London Museum of Soundwalking / Soundwalk Sunday, and in the upcoming Un/Sounding the Relational City Conference (February 2020).
walkietalkiedreams.org wtdg.org
FB, Twitter, Instagram: @walkietalkdream
---
U-GRUVE AR, created by programmer Richard Rodkin, enables the creation of interactive soundtracks for public spaces using listener/participants phones and GPS sensors to trigger geo-tagged musical outcomes to predefined zones in the targeted environment. http://u-gruve.com/